Paul Anastas ( also called as father of green chemistry) and John Warner designs twelve principles of GREEN CHEMISTRY to save the environment.
GREEN CHEMISTRY
It is defined by the Environmental Protection Agency (EPA) as " The utilization of a set of principles that reduces or eliminates the use or generation of a hazardous substance in the design, manufacture, and application of chemical products."
TWELVE PRINCIPLES OF GREEN CHEMISTRY
The twelve principles of GREEN CHEMISTRY proposed by Paul Anastas and John are given below,
1. Prevention: It is the first principle from twelve principles of green chemistry. It is better to prevent waste than treat or clean up waste after it is formed.
2. Atom Economy: – The design of the synthesis of a product should be such that all the materials used in the process is incorporated into the product to the maximum extent.
3. Non Hazardous chemical: – The synthetic methods should be designed, whenever practicable to use and generate substances having little or no toxicity to human health and the environment.
Explanation: –a. The waste products pollute land, water & air for e.g. oxides of sulphur & nitrogen produce acid rain. Thus the approach is to prevent the generation of such acidic products which cause acid rains. Therefore, it is better to prevent the formation of waste rather than find the methods to clean up these products later.
b. Most of the reactions produce by-products. Thus all the atoms of reactants aren't utilized in the product. These unutilized substances generate waste. Hence process becomes uneconomical.
c. The materials used should be non-toxic or less toxic. For e.g. processes involving pyridine & p- Naphthyl amine should be avoided as they are carcinogenic (cancer-causing).
      Earlier the objective of a chemical reaction was to produce a particular product without bothering about bi-products formed which are wasted.  The basic principles of green chemistry is to prevent and minimize the use of hazardous chemicals in the manufacturing process. Therefore, all the chemical processes are re-examined and new processes and products are redesigned such that the wastage of chemicals and pollution is prevented.
Similarly, the manufacture of pesticides using methyl isocyanate is avoided as it is poisonous.
4. Safer Chemicals: – The chemical products should be designed to preserve the efficacy of the desired function while reducing toxicity.
Explanation: – If a drug molecule is toxic then its structure is modified keeping the basic feature so that its function is maintained whereas the toxicity is reduced. Similarly, pesticides like DDT & Gamaxane are toxic in nature & hence they are replaced by phosphate & carbonate pesticides. Currently, bio-pesticides are replacing chemical pesticides.
5. Auxiliary Substances: – The use of auxiliary substances like solvents, separating agents, etc should be made unnecessary whenever possible & innocuous when used.
(Explanation: – The common auxiliary chemical is solvent which becomes toxic waste & it also may be inflammable. The dry cleaning solvent i.e. Carbon tetrachloride is found to be toxic, so currently use of liquid CO2 is used for dry cleaning purposes.)
6. Energy Efficiency: – Energy efficiency is also important term amongst twelve principles of green chemistry. The energy requirements of chemical processes should be minimized considering their environmental & economic impacts. The synthetic methods should be carried out at ambient (neither high nor low) temperature & pressure, wherever possible.
Explanation: – The use of fossil fuels & petroleum products as energy sources causes pollutants. Therefore, low-energy processes should be developed. For e.g. fermentation is developed by biotechnology which has minimum energy requirements. Further, microwaves, Ultrasound & solar energy are to be used.
7. Renewable Feedstock: – The raw material should be renewable rather than depleting whenever technically & economically feasible.
Explanation: – Coal & petroleum as sources of raw materials are exhaustible sources. Therefore, materials such as bio-mass (plant or animal product) is used which are renewable & harmless. For e.g. adipic acid is currently prepared from glucose which is obtained from corn starch.
8. Derivatization: During synthesis, unnecessary derivatization such as blocking group, protection, or deprotection, temporary modification of physical & chemical; processes should be avoided whenever possible.
The derivatization increases the no. of steps this further increases the wastage & energy consumption.  Therefore, the processes with a minimum no. of steps are being explored. The "Single ⌯ Plot" reactions are the best option.
Out of twelve principles of green chemistry, we also think on unnecessary preparation of derivatives/intermediates.
9. Catalysis: – The catalytic reagents which are selective are superior to stoichiometric reagents. The catalysts & bio-catalysts are used to carry out the reaction. It uses less time & energy & the catalyst can be recovered. The usual reagents generate waste products. Hence it is also valuable point amongst twelve principles of green chemistry.
10. Degradable Products: – Chemical products should be designed such that at the end of their function they break down into insignificant degradation products.
The products which are used should finally degrade into harmless products. For e.g. DDT isn't bio-degradable. Hence causes environmental pollution. Similarly, plastics are also not bio-degradable therefore, plastics containing cellulose are being prepared to get bio-degradable plastics.
11. New Analytical Methods: -New analytical methods have to be developed to allow online process monitoring & control prior to the formation of hazardous substances.
The conditions of reaction should be continuously monitored to check the formation of toxic material. For e.g. in the preparation of ethylene glycol if the temperature goes up it generates a highly toxic substance called dioxin. Therefore, the temp should be properly controlled to prevent its formation.
12. Accident Prevention: – It is one of important principle amongst 12 principles of green chemistry. The substances & their form used in the chemical process should be chosen to minimize the potential for chemical releases, accidents, explosions & fires.
Inflammable liquids like benzene, ether, sulphur & carbon disulphide may cause fire hazard.
During nitration of toluene to prepare INT proper condition should be maintained to prevent explosion.
During high pressure reaction of chemical should be controlled.
For e.g. Release of methyl isocyanate (MIC) by Union Carbides caused a lot of loss of life.
I hope you have understand the principles of green chemistry.
Atom Economy (or Atom Efficiency)

:
It is a measure of the efficiency with which the atoms of reactants in any are incorporated into the desired product. It is expressed as a percentage, which is given by.

In accordance with the concept of atom economy, a good reaction is one in which all the atoms in the reactant appear in the final product. ( No waste at all)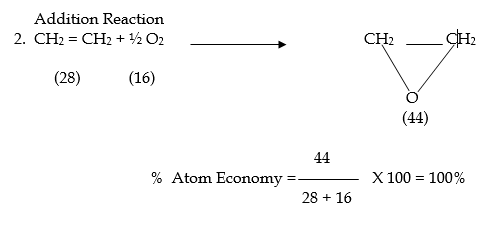 Note: –
Addition & rearrangement reactions have highest atom economy whereas substitution & elimination have lower values.
Reaction having 80% or more atom economy should be carried obtain, rest i.e. below should be avoided.
E-factor ( Effluent factor): –
It is called the Effluent factor which is the measure of the amount of waste products generated during the process.
E-factor is the ratio of wastage produced in kgs to the weight of desired product in kg.

If the atom Economy in a reaction is low, wastage will be high & this increases E-factor and such reaction shouldn't be used. E-factor also depends on the size of the manufacturing facility. For bulk production the E- factor should be very low because the disposable waste should be minimum.
Green Chemistry: –              
Practicing chemistry in a manner that is environmentally friendly is the essence of green chemistry. Environment protection agency [EPA] defines the Green Chemistry as "The Utilization of a set of principles that reduces or eliminated the use or generation of the hazardous substance in the design, manufacture & application of chemical products".
The term green chemistry as adopted by the IUPAC working party on Synthetic pathways and process is
              "The invention, design, and application of chemical products and processes to reduce or to eliminate the use and generation of hazardous substance". 
Please also read..
Q: Who gave twelve principles of green chemistry?
Paul Anastas (also called as father of green chemistry) and John Warner designs twelve principles of Green Chemistry in 1991.
Q: Who is called father of green chemistry?
Paul Anastas known as Father of Green Chemistry. He designs twelve principles of Green Chemistry in 1991.
Q: Why is Paul Anastas known as Father of Green Chemistry?
Paul Anastas known as Father of Green Chemistry because of his grate contribution on Green chemistry for survival of planet earth.
Q: What is Green chemistry?
Green Chemistry is the designing of process or route of chemical reaction/process that reduce or eliminate the generation of hazardous waste. Please refer twelve principles of Green Chemistry for more details.