Definition
Organic Synthesis is the process of designing a molecule that may be a natural or synthesis product, using the basic principle of organic chemistry from a target molecule.
Criteria for an ideal organic synthesis
In designing an organic synthesis certain criteria have to be considered.
i) Starting materials:-The required raw materials should be readily available at a low cost.
ii) Steps involved: An ideal synthesis should involve the least number of steps for greater efficiency & yield.
iii) Cost-effectiveness: – The synthetic procedure should be cost-effective with respect to the chemical substance used & operational procedures.
iv) By product: – An ideal synthetic route should be as possible to eliminate or decrease the formation of by-products & waste as they decrease the yield of the process.
Yield & Selectivity
The amount of starting materials converted to product determined in terms of yield of a reaction expressed as percentage yield as follows:-

The theoretical yield is calculated by using the stoichiometric equation.

Very rarely the yield of an organic reaction will be 100 % as the practical yield is less than the theoretical yield.
Many organic reactions are generated by-products that get incorporated into the yield. Hence even though a synthesis gives 100% yield, cannot be considered a green synthesis.
Another used term is % conversion

Concept of Selectivity
The efficiency of a chemical reaction is measured in terms of selectivity which is the ratio of desired product formed to the amount of desired product expected.
Selectivity can be following types:-
i) Chemoselectivity
ii) Regioselectivity
iii) Enantioselectivity
iv) Diastereoselective
Chemoselectivity
When functional group reacts in other functional groups in the reactant. e.g.:- the reduction of m-dinitrobenzene by NaSH gives m-nitroaniline. Thus, one nitro group is reduced & the other is unaffected. Thus, the chemo selectively leads to desired product i.e. m-nitroaniline in the absence, both nitro groups are reduced in the undesired product i.e. m-phenylene diamine.
Regio-selectivity
When a particular site of reactant undergoes a reaction that is similar to other sites, there is regioselectivity in the reaction. e.g.:- Markownikoff addition of a halogen acid to an unsymmetrical alkene.

Due to regioselectivity 80% of the product is 2-bromopropane.
Enantioselectivity
When a new chiral center is introduced in a molecule, normally both enantiomers will be formed in equal amounts. However, an enantioselective reaction produces one of the enantiomer or major products.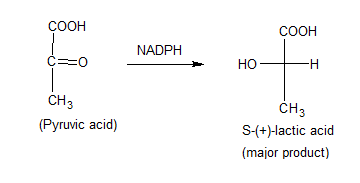 Diastereoselective
When one of the diastereomers is formed predominantly even though two or more diastereomers are possible.
The reduction of alkynes using Lindlar's catalyst (pd on BaSO4)gives cis alkene as the major product & trans alkene as the minor product.

Here the diastereoselectivity is due to the specific nature of the catalyst. In absence of such a catalyst, both the diastereomers will be formed in equal amounts.
An ideal organic synthesis should follow the basic principle of green chemistry. However certain parameters need special mention for efficient synthesis such as:-
Choice of less hazardous & renewable starting materials

:-
A typical example is the manufacture of adipic acid from glucose using a biocatalyst this eliminates the use of petrochemical-based raw materials which are carcinogens. Biomass is an ideal renewable source for starting materials.
Choice of green reagents:-
Polymer-supported reagents such as polymer-supported peracids, polymer-supported chromic acid, etc. are efficient environment friendly & easily recoverable. e.g. Poly-N-bromosuccinimide (PNBS) is used as a selective brominating agent.

Choice of catalyst :-
A green catalyst such as a biocatalyst, polymer-supported catalyst brings about conversions at a lower temperature & a much faster rate. Further, chiral catalysts are available which result in a stereospecific reaction.
Choice of Solvents:-
The use of green solvents such as ionic liquids, water, supercritical CO2, etc, is preferred to conventional solvents such as benzene, CCl4, CH2Cl­2, etc. which are known to be health hazards. It is best to carry out solvent-less reactions in solid-state.
Types of Organic synthesis:-
Linear Synthesis:

–
It is a synthesis in which the product is obtained through a series of single-step reactions.

e.g. Synthesis of P-bromoaniline.

Comergent Synthesis

:-
It is a synthesis in which the final product is obtained as a result of the reaction between compounds obtained separately through two different routes.
i.e. A + B ——> P (Step I)
C + D ——> Q – (Step II)
P + Q ——> Final product (Step III)
e.g.:- Synthesis of Benadryl (antihistamine drug)
STEP-I

STEP III:- Condensation of A & B

Multi component Synthesis

:-
An organic synthesis involving more than two-component in a reaction vessel is called a multi-component synthesis.
Mannich Reaction:-
The condensation of a compound containing one or more active hydrogen (reactive methylene compound) with formaldehyde & ammonia or primary or secondary amine forming β-amino compound is called a Mannich reaction.
e.g.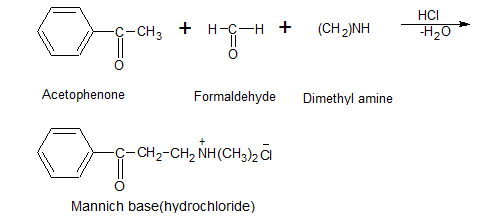 2. Hantzsch synthesis:-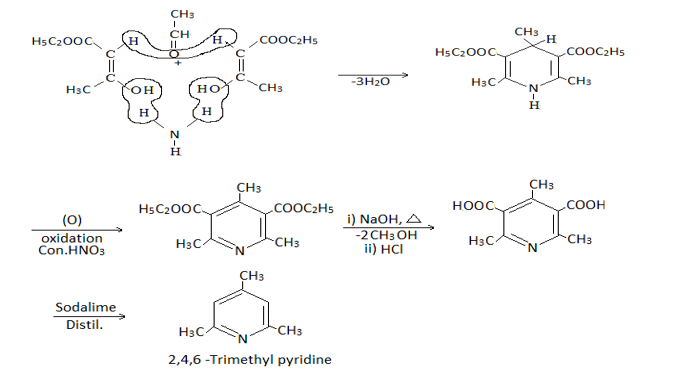 Useful article – TWELVE PRINCIPLES OF GREEN CHEMISTRY
FAQs
What is a catalyst?
Catalysts are organic or inorganic substances that are used in minor quantities to accelerate the rate of reaction. It does not take part directly but also can be recovered at the end.
What are the features of a good catalyst?
Following are the features,
1. It should be easily available. 2. It should be nontoxic 3. The catalyst must not expensive. 4. Can be easily recoverable at the end of the reaction. 5. Small quantity is sufficient for a reaction to proceed. 5. Catalytic activity should be maximum at optimum temperature.
What are the types of catalysts?
Basically, there are four types, the first is homogenous and the other is heterogeneous. Apart from this, there are also Heterogenized homogeneous catalysts & Biocatalyst.
What are various processes of organic synthesis?
There are various processes which include halogenation, nitration, sulphonation, dehydrohalogenations, alkylations, aminations, hydrolysis, esterifications, etc.
Which are common specific named reactions used during organic synthesis?
There are various name reactions commonly used like Fridel Craft reaction, Hofman rearrangement, Beckmann rearrangement, Aldol condensation, Claisen condensation, Pinacol Pinacolone rearrangement, etc.
What are various types of organic reactions used during organic synthesis?
Various types of organic reactions are used during organic synthesis like Rearrangement reactions, Substitution reactions, Addition reactions, Elimination reactions, Condensation reactions, etc.
What is green synthesis? Can it be useful?
It is defined by the Environmental Protection Agency (EPA) as " The utilization of a set of principles that reduces or eliminates the use or generation of a hazardous substance in the design, manufacture, and application of chemical products. It can be an effective method now a day. Kindly refer to this article for more detail on "Green chemistry"